Peachbarn Cabins and Rentals
The Peachbarn Winery Suite
Located in our 1940's Peachbarn, we offer guests a welcoming rural haven with magnificent sunsets and gorgeous scenery of the Shawnee Hills. If you're seeking a quiet vacation away from the hustle and bustle of everyday life, our barn suite is the perfect place to stay along the Shawnee Hills Wine Trail. Message us ahead to order an in-room treat for you when you arrive!
Suite Includes

Refrigerator

Microwave

Coffee Brewer

Toaster
 Wi-Fi is not available, and TV for DVDs only
Breakfast Not Included
​Cancellation Policy:  No refunds will be given for cancellations made less than one week prior to your stay.
The Bitty House
The Bitty House boasts an upper-level master suite with a queen bed and en suite powder room and a direct view of the Bald Knob Cross monument. Downstairs is a private bedroom with a full-sized bed, a fully stocked kitchen, a full common bathroom, a sitting area, a small dining table, and a very relaxing screened-in porch also facing Bald Knob Cross.
The Bitty House Too
The Bitty House Too, located behind the Bitty House, has a private bedroom on the lower level with a queen bed. The main level has a spacious dining and sitting area, a fully stocked kitchen, a common full bath, a sleeping area with a daybed, and a cozy screened in porch. Enjoy the view of the Peachbarn Winery and vineyard from the back porch.
Centennial Cottage
Centennial Cottage is centrally located within the Shawnee National Forest and surrounded by countless activities and adventures. The cottage features two bedrooms with one full bath and can accommodate up to 5 adults. The kitchen includes an electric range, refrigerator, dishwasher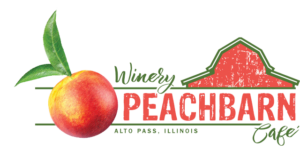 Mon - Thur CLOSED
Friday 12 pm - 7 pm
Saturday 12 pm - 7 pm
Sunday 12 pm - 5 pm
Holiday Hours
Christmas Eve- 12-3 pm Wine Only, No food
Christmas Day Closed
New Year's Eve- 12-6 pm
New Year's Day Closed
*Last food orders 30min prior to close
560 Chestnut Street, Alto Pass, IL 62905
© 2023 Peachbarn Winery and Cafe
Privacy Policy | Terms of Use