The Cafe
The Peachbarn's ever-changing menu is focused on seasonal produce, sourcing as local as we possibly can.  Our menu is seasonally dependent. ​
The Peachbarn Café is open year-round, with seating available indoors and out. Reservations are not required during normal operating hours unless otherwise noted for certain holidays and special events.
We Source Locally, Buy Sustainably & Change Often
SPINACH ARTICHOKE DIP
House-made spinach and artichoke dip served with tortilla chips and bread dippers.
9.5
ARTISAN CHEESE PLATTER
Assortment of artisan cheeses served with pickles, jam, hummus, fresh fruit, bread, and house-made gluten-free seed crackers. Serves 2-4
17.5
SAUSAGE BOARD
Assortment of wild game sausages served with spicy brown mustard, bread, chef's veggies, hummus, and house-made gluten-free seed crackers. Serves 2-4
17.5
COMBO PLATTER
Two cheese and two sausage varieties with the other platter fixin's. Serves 2-4
17.5
Bruschetta
Chopped meaty tomatoes, fresh garlic, red onion, olive oil, and fresh basil on crispy seasoned toast.
8.5
Margherita style
House-roasted garlic tomato sauce, mozzarella, basil.
14
Spinach-Artichoke
Our spinach/artichoke spread with parmesan and seasonings.
15
Hawaiian BBQ
House BBQ sauce, grilled pineapple, Canadian bacon, bacon crumbles, caramelized onions, topped with mozzarella.
15
LOBSTER BISQUE SOUP
Our famous soup in a large bowl topped with herbs and served with bread
9.5
GREEK SALAD
Romaine, cherry tomatoes, cucumber, red onion, kalamata olives, feta cheese with greek salad dressing on the side. Add game sausage, chicken or shrimp for add'l $3
14
GOAT CHEESE PASTA
Fettuccine noodles bathing in a creamy goat cheese sauce with bell peppers, zucchini, and squash, herbs. Add game sausage, chicken, or shrimp for add'l $3
14
Peach Barn Meatballs
The original meatball recipe of seasoned beef and pork loaf layered with mashed potatoes and topped with the original hip-widening homemade gravy! Add a side of pickles and jam for $2!
16
Locally sourced and made in-house whenever possible.
Consuming raw or undercooked meats, poultry, seafood, or eggs may increase your risk of foodborne illness.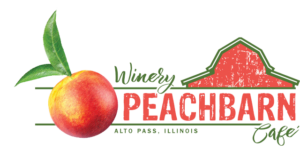 Mon - Thur CLOSED
Friday 12 pm - 7 pm
Saturday 12 pm - 7 pm
Sunday 12 pm - 5 pm
Holiday Hours
Christmas Eve- 12-3 pm Wine Only, No food
Christmas Day Closed
New Year's Eve- 12-6 pm
New Year's Day Closed
*Last food orders 30min prior to close
560 Chestnut Street, Alto Pass, IL 62905
© 2023 Peachbarn Winery and Cafe
Privacy Policy | Terms of Use